→
→
→

Posts during August 2011 for Arashikage
X
Sign In - Sign Out Thread
Posted: Aug 30 2011, 06:07 AM Forum General Talk View full topic
I'm still without power, service came back to my area and half my Goddamn street has power, but not my half, the other half, so I'm still without power, up all night every night bailing the basement, my school is underwater, so there's no chance of going this Thursday when we were supposed to. FEMA wouldn't sign a stupid paper, so I can't go out and do disaster relief, it sucks right now.
Sign In - Sign Out Thread
Posted: Aug 29 2011, 05:16 AM Forum General Talk View full topic
Okay, so Connecticut Light & Power went down, and they took ALL my freakin electricity with them. I have no power, no lights, no computer, no TV, nothing. I'm posting this from my slowly dying phone. I have to go down every two hours to bail out my pump with a bucket, we're sleeping in shifts, every two hours we get up and do it again. The state is wrecked over where I am, trees fell down, sometimes on top of people, some people fell into holes, houses crumbled, riots started, looting, it's just a wreck. I'll be gone for about a week till they can get our damn power back, and even when they do I can't guarantee I'll be here for a bit because we still need to restore over here.
The armory of BallisticWaffles and Arashikage
Posted: Aug 27 2011, 07:20 AM Forum 3D Art View full topic
This is for me and Waffles to dump the guns we make either on Pimpmygun(Thanks Star Dragon for introducing me to that), or otherwise, and for you to make snarky comments-er I mean, say you like them >.>

Anyway, to start out, here are a few of my guns.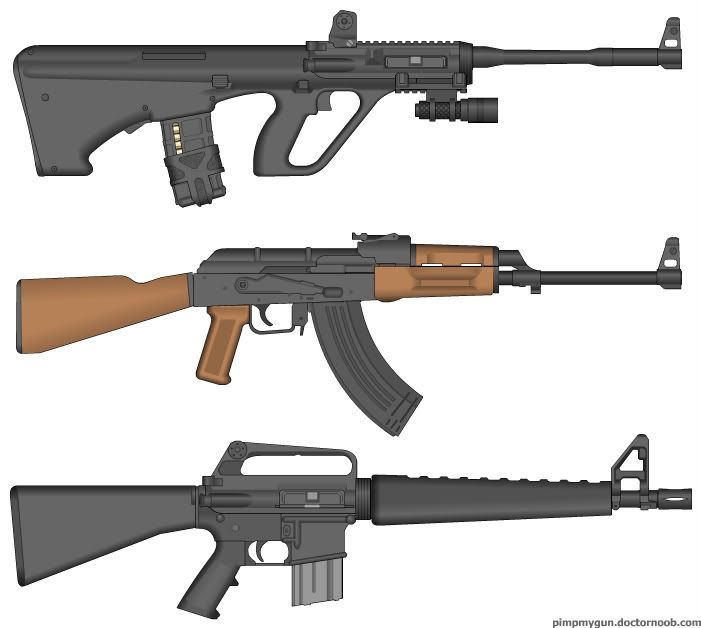 The first gun I made, directly on top, the AK47 and M16 are just for scale



The second gun I made here, it's based off of the Mk12 SPR




Third gun, based off the M14, but I added a rail and scope to make it look more like a sniper rifle



The last gun I made here, MP5 like, but has a different styled clip, along with a forward handgrip like the MP5K should have, and a tactical flashlight like the standard MP5 would have. Also features a folding stock and a holographic sight.
[ti]BA[/ti]Debate Thread
Posted: Aug 26 2011, 10:13 PM Forum General Talk View full topic

You can't compare two brands and ask which is better. There is no better, it's just which individual processor is better than the other. I have an AMD processor, it's better than my friends intel, dies that mean that AMD is better than Intel? No.
Star_Dragon's PIMPMYGUN armory
Posted: Aug 24 2011, 11:19 AM Forum 3D Art View full topic
X60: main body is the Steyr AUG, the clip is a G36 clip, M4 foregrip, M4 Forward handgrip, Judging by the flash hider, that's an M4 barrel, or an M16 barrel, and the bottom barrel is an Mp5 barrel.

As for the other barrels of the MP340A2 and the AR635A2: they both look to be Mp5 barrels.
Star_Dragon's PIMPMYGUN armory
Posted: Aug 24 2011, 08:13 AM Forum 3D Art View full topic
I bet I can identify all or most of the guns used in the makings of most of these weapons.

X700: XM8 barrel and foregrip, TAR 21 stock and trigger, AK47 clip, Benelli 12 gauge shotgun underslung.

X40: AK47 body with a Dragunov SVD stock.

X55: AK47 clip on a Mk 12 SPR body.

X25: F2000, with an AK47 barrel, and the foregrip is probably an AK47 RIS.

The X50 and X45 are both M14's with G36 clips, the difference between the 50 and 45 being the 50 has a scope.

S30: M16 body, MP5 handle, G36 foregrip, Universal stock, but I am gonna say it's an M16.

BR40: AK47 clip and barrel, SCAR H body and stock, and an M4 handle with a SCAR trigger.

AR635A2: AK47 clip, G36 foregrip, SCAR L body, G36 handle and trigger, AK74 barrel with an M4 flash hider, and an M203 grenade launcher.

H40: Scar mostly, with an AR15 handle and trigger, G36 clip, AK47 barrel, SCAR flash hider, and an M203 grenade launcher.

MP340: AK47 body, VSS Vintorez stock, ACR clip, XM8 foregrip, XM8 Sharpshooter variant barrel.

MP340A2: M16 trigger grip and clip port, G36K carrying handle and ACOG, SCAR main body, G36K foregrip, XM8 barrel.


That was fun! Make some more, I'll try to identify them!
Star Wars: Blue team
Posted: Aug 18 2011, 03:13 PM Forum Rp Thread Archives View full topic
The mercenary nodded, accepting the sword as she ran her glove covered fingers across the blade, 'Hm, something like this could go for a high price on the black market. One of the only three from Lord Brelos, what a rare piece.' She thought. Although, she had no real intentions of selling it.... Yet.
Star Wars: Blue team
Posted: Aug 15 2011, 07:58 AM Forum Rp Thread Archives View full topic
The female stepped onto the bridge, looking around. "I can't wait to take out some rebel scum" She said, of course, it made no difference who she killed, so long as she killed.
Star Wars: Blue team
Posted: Aug 3 2011, 06:18 PM Forum Rp Thread Archives View full topic
She cocked her head, "Well that's not a good thing, you need to trust yourself if you want to survive out here. To not trust yourself is to give up hope in your own abilities"
| | | |
| --- | --- | --- |
| | | 3:16 AM Aug 16 |