→
→
→

Posts during February 2011 for Blazethesage
X
Star Fox: Origins
Posted: Feb 28 2011, 11:22 PM Forum Rp Thread Archives View full topic
Peppy chuckled. "I would hope not, Lieutenant. After all you put us through, I'd hate to lose my edge now." Grabbing a drink, he took a sip, and asked, "So, aside from questioning regarding his activity, what happens with Dengar?"
Cornerian Academy
Posted: Feb 28 2011, 07:18 PM Forum Rp Thread Archives View full topic
Panther snarled in frustration as the sudden shift in gravity sent him flying up into the air. "Clever girl, but I'm starting to get irritated. Time to dispense with the chivalry!" He cried, locating Angel and pointing his blaster in her direction, squeezing off a few shots and sending himself drifting in the opposite direction. Where in blazes did that frog get to? I need to keep him away from the computer before he can do any real harm...
Cornerian Academy
Posted: Feb 27 2011, 09:08 PM Forum Rp Thread Archives View full topic
Panther smirked. "Weapons down, or the frog adds new holes to his head. Whatever you've planned, I'm afraid I'm going to have to spoil." Shuffling himself briefly to activate his com, he called out to Wolf. "I'm sorry to bother you, Wolf, but I caught the Frog tampering in the computer room - I'd check things out myself, but I'm in a bit of a stalemate with his lovely assistant. I've got the Frog, but she's taken out Leon."
Cornerian Academy
Posted: Feb 27 2011, 08:17 PM Forum Rp Thread Archives View full topic
Panther, not moving his blaster, turned instead his gaze toward the arctic fox, and to the now-unconscious Leon. "Hmm... beauty AND brawn. Quite the combination. It seems Leon underestimated you. But don't forget one small detail, my little angel." Panther said, unphased, and completely unaware that he was calling her by her name.

Suddenly, Panther spun himself around, and placed himself on the other side of Slippy, holding the amphibious mechanic with one arm, his blaster planted to the side of his head. "I do have a hostage."
Cornerian Academy
Posted: Feb 27 2011, 07:42 PM Forum Rp Thread Archives View full topic
A blaster suddenly found itself pointed at the back of Slippy's head. A deep, smooth voice spoke out, a tone of disappointment making itself obvious. "And of course, while Leon gets to play with the lovely lady, I get stuck with the frog. Easy now, I would hate to see dear sweet Krystal's face if she learned I'd had to splatter one of her teammate's head across the walls. Turn around slowly, and drop your weapons." Panther Caroso spoke calmly, but quietly.

"You know, I don't believe we got a chance to see you in combat the last time you were here. I heard your Arwing got wrecked while you were inside destroying the transfer devices. Shame you made this too easy, or we might have made up for that."
Cornerian Academy
Posted: Feb 26 2011, 10:40 PM Forum Rp Thread Archives View full topic
Scrap beamed a little. "I make my living with a great variety of gadgets big, small, explosive, or for maintenance, and a great deal of other functions. If there's one thing I know, it's machines, how they work, and what they're for. And you're precisely correct, his brief, yet firm hold on you would have been the perfect opportunity to attach something, though it would have been possible at any point during his attack, so I would like to scan everybody... but, let's start with the volunteer. Just hoooold still..."

Scrap began fiddling with his gauntlet again, this time actually removing a small device from a compartment, and pointing it at Leo. "If there's anything on you that there shouldn't be, this baby'll find it!"
Cornerian Academy
Posted: Feb 26 2011, 07:49 PM Forum Rp Thread Archives View full topic
Scrap nodded. "I agree, when considering his potential objectives considering his activity, these two would seem to be his most likely targets, which would mean his mission is a failure. This does mean, however, that whoever hired him may attempt again in some other manner, or that same fellow might return, better prepared. I would personally advise a state of higher caution in the next little while." The mechanical genius proceeded, his gaze focused on something he was doing with his utility gauntlet.

"I had hoped to provide some support in thwarting him, but was unable to do more than block a few of his shots as he made his escape. In a semi-related note, however, it may be possible that his true objective was more subtle than a mere assassination attempt, and as such, I would like to request permission to scan those that were involved in close proximity with him for any hostile mechanical devices - transmitters, trackers, and other more unpleasant possible things he may have snuck during the melee."

[offtopic]Man, when Scrap talks, he freakin' TALKS. He's supposed to sound all technical and smart and stuff, but I didn't really picture him being quite so long-winded =\[/offtopic]
A bit of Blaze's Sprite-work
Posted: Feb 26 2011, 12:43 PM Forum Traditional Art View full topic


More from me - this one was something of a banner for an RP I've attempted a few times featuring the trio of the right, in their story of the Burning Blades, rising from the ashes of defeat with new faces and old as they end up pitted against former allies, now teamed up with new faces of their own.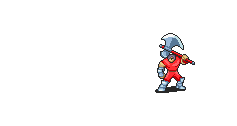 A small animation of Darnan up there, and one I'm fairly proud of - if only because of how much detail work I had to put into this. As always, not from scratch, but the legs may as well be, cause the original character that I used for these sprites had a loincloth that hung down. He also didn't have a shirt, but adding a shirt is easier than removing the loincloth and replacing it with pants <_<



Spoiler'd for Big



And as a little treat, this was the initial map of a large-scale map battle I actually got started at one point on a Fire Emblem Battle forum, though we never got even half way. I had events planned, a story for it, reinforcements, it was lots of fun to put together. The player characters would start with the Sniper at the bottom of the map, and had to fight their way to the top of the map to the Lord up there, and trust me it wouldn't be as easy as it looks in that last stretch, and then escort him out through a whooole new wave of enemies. And that sorceror-looking boss was up to a number of no-good tricks the whole time, with some real nastiness up his sleeve. Of course, the two rooms in the lower middle of the map were hidden until the doors opened.
Cornerian Academy
Posted: Feb 26 2011, 10:43 AM Forum Rp Thread Archives View full topic
Scrap shrugged. "I don't know, considering the velocity and the means of his departure, combined with the angle, it would take a supreme marksman, far above the standards of accuracy in any military group in the Lylat system, or at least any that I'm familiar with, to have successfully landed any attempted shots. Potshots would have been wasted ammo, in my opinion." Scrap punctuated this with a small nod.

"Still, I can't help but think he won't be too pleased - unless there was a more subtle aspect to his attack, he seems to have failed, as outside of the unfortunate casualties among the security forces, all parties he engaged with appear to have come out with no visible injuries of any seriousness. Though I do think I may request permission to scan for anything he may have attached during the combat..." At this point, he was more thinking out loud than anything, and starting to make his way back to where they had left the rest of them.
Cornerian Academy
Posted: Feb 25 2011, 09:07 PM Forum Rp Thread Archives View full topic
Scrap's eyes widened as the supposedly defeated intruder leapt up, and got his utility gauntlet ready with another of its useful features. He didn't have much offensive power, but support was his thing, and he did it well. When the attacker shoved his hostage forward, the squirrel jumped forward with his gauntlet, projecting a flat shield in front of himself, stopping a few of the blaster shots dead. He then proceeded to follow the hostage, who'd taken off after him. "We have to find a way to delay him somehow!"
Cornerian Academy
Posted: Feb 25 2011, 10:24 AM Forum Rp Thread Archives View full topic
Scrap merely watched the fight with anticipation - whoever this guy was, it would appear that these people had him under control, so rather than sit around waiting for a chance to jump in, he made his way over to the two foxes. "Do you two require any assistance?" He asked, already delving into one of his utility glove's functions; if they did require aid, most likely would be first aid.
Star Fox: Origins
Posted: Feb 24 2011, 06:55 PM Forum Rp Thread Archives View full topic
Peppy stepped back, allowing one of the more heavily muscled squad members take care of Pigma. Instead, he merely eyed the swine up and down, mentally assessing him. He's fatter than I thought. I hate to admit it, but I'm actually kind of impressed he made it this far before getting stuck. There may just be more to him than just a fat slob with weapons. Well, we'll just have to see what happens with him once we've got what we need from him...
A bit of Blaze's Sprite-work
Posted: Feb 24 2011, 10:18 AM Forum Traditional Art View full topic


A bit of a compilation image - you know that dude up there with the flaming sword and the tail? He didn't always look like that, and he used to be the leader of a Mercenary Company called The Burning Blades, and this is just a little shot on them back in the glory days, doing what they do best.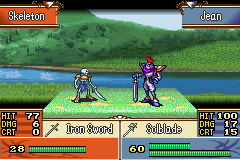 And a little joke thing, WHEN GAMES COLLIDE. Jean, of Breath of Fire 2, in his shamanized form, in a Fire Emblem battle scene. Sadly the sprite sheet I found for Jean was missing some of the frames to make it look a bit smoother than this, but whatever.
Cornerian Academy
Posted: Feb 24 2011, 10:12 AM Forum Rp Thread Archives View full topic
Scrap noticed the struggle starting to unfold as he was making his way in the direction of the previous disturbance, and quickly decided that whatever was going on was now happening there, and made his way in that direction.

Scrap found himself wishing he'd thought to grab his goggles, as the zoom on them would have made analyzing the situation that much easier. As far as he could tell though, there looked to be two people - one very much larger than the other - involved in a hand-to-hand struggle, with another nearby training a rifle at them. "Oh no, why'd they have to be engaged in melee, this thing won't be any help!" Scrap moaned, referring to the small round device clutched in one hand. For the moment, all he could do was watch from the sidelines, and wait for a chance to do something. If only someone could separate the two, the squirrel would be able to provide some kind of support.
Star Fox: Origins
Posted: Feb 24 2011, 01:18 AM Forum Rp Thread Archives View full topic
Following the sounds of the chase, and Pigma's yells, Peppy took off in that direction, and found himself trailing Brunton before too long. Seeing James ahead of him, he watched as James made for the roofs to continue pursuit. "Now why didn't I think of that?" Peppy had never been built for sprinting, but he had good endurance, and rather unsurprisingly, could jump extremely well.

Before long, he found himself stopped in front of an alley, from which was emanating some less-than-pleased sounds that could only be coming from the target, Dengar. Reaching for his radio, he gave the call. "Lieutenant, we've got Pigma cornered in an alley - sounds like he's gotten himself stuck in something."
Cornerian Academy
Posted: Feb 22 2011, 09:57 PM Forum Rp Thread Archives View full topic
"YEOW! What was that?!" Scrap was halfway between his ship and the dorm when he heard the explosion. "Whatever it was, it sounds like trouble's reared its unfavorable head! I'd better go help!" Dropping most of his load where he stood, Scrap dug through it briefly, recovering two things - his utility gauntlet (to which Scrap had, naturally, made a number of additions for combat situations), and a small, compact device, that looked not unlike a grenade. "This oughta come in handy!"

With that, he took off in the direction of the disruption, merely hoping he would arrive in time to be useful.
| | | |
| --- | --- | --- |
| | | 5:00 PM Aug 15 |